Ferris Wheel Information
What is an Observation Wheel?
Giant observation wheels are popping up all over the world as the race to build the biggest is heating up. An observation wheel consists of a large, rotatable wheel mounted on a central support structure with cars mounted to the rim of the wheel that always remain upright, typically due to gravity. Observation wheels (also called Ferris wheels, big wheels, or giant wheels) are common in cities and on fairgrounds. Due to their height and their slow movement they generally provide an impressive view over the surrounding area. The wheel turns continuously at relatively low speed so that it is possible for users to get on and off the cabins in the bottom section whilst the wheel is turning.
What is the difference between an observation wheel and a Ferris Wheel?
Observation wheels are essentially bigger, more sophisticated Ferris wheels. Some even consider them to be one and the same. Modern observation wheels are typically much larger than the Ferris wheels they evolved from. Observation wheel's capsules are usually enclosed and air conditioned, allowing year round operation. Ferris wheels are generally cheaper due to their smaller size.
I liken observation and Ferris wheels to wooden and steel roller coasters: one type is more classic while the other is modern but they both fall under the same definition of a roller coaster. Observation wheels are modernized versions of the classic Ferris wheel but they still fall under the general definition of a Ferris wheel.
Other Aspects of an Observation Wheel include:
Iconic structures that are typically found overlooking a scenic area, such as a cityscape or natural wonder
Usually 400 feet or larger in diameter
Internal structure is built with cables giving a transparent appearance (like a bicycle wheel)
Climate controlled capsules allow year round operation
Usually fixed installations
Slow wheel rotation allows passengers to board without stopping
Capsules (not gondolas) may be kept upright by means other than gravity, such as electric motors gyro stabilized
At the top of the wheel the capsules are outside of the structure providing an unobstructed view of the surrounding area
Other Aspects of a Ferris wheel include:
Typically found at fair, carnivals, and amusement parks
Limited to 400 feet or less in diameter
Internal structure is made with steel members resulting in bulky and solid appearance
Usually only seasonal operation due to open gondolas
Requires wheel to stop to allow passengers to board or disembark
Ferris wheels are more likely to be transportable
Gondolas are kept upright by gravity only and usually hang down inside the structure of the Ferris wheel
Learn about the history of the Ferris wheel.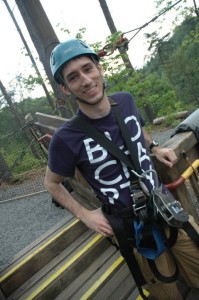 In the Media
I've received numerous requests from various media outlets over the years, including NPR and CBS News. Here are links to a few articles I've helped out with:
About Me
I'm Nick, a huge fan of roller coasters, theme parks, zoo, thrill rides, and anything remotely related to the amusement industry. I've written a book all about roller coaster design called Coasters 101. I hope this website helps you find any information you are looking for on observation wheels found throughout the world. Giant observation wheels are treasures we can all enjoy.
Acknowledgements
The Observation Wheel Directory's massive amount of data is due to the collaboration of countless people who have provided their time and energy. The list below, while incomplete, recognizes those who helped make the OWD what it is today.
Research: Nicholas Tucker, oDesk VAs
Photographs: Ben Miller, BigStock