Name
New York Wheel
Height
m (630ft)
Diameter
Opened
 Under Construction (2017)
Country
USA
Location
Staten Island; New York City
Number of Cabins
36
Passengers per Cabin
40
Seating Capacity
1440
Hourly Capacity
2273
Ride Duration (minutes)
38
Climate Controlled
Yes
Construction Cost
$580 million USD
Status
Under Construction
Design/Manufacturer
Mammoet-Starneth
LLC
Type
Fixed
Number of Turns (Rotations) Per Ride
1
VIP Area
Yes
Ticket Cost to Ride
~$35
Official Website
http://www.newyorkwheel.com/
Additional Notes: 36 capsules including three bar capsules and one dining capsule The New York Wheel will open in 2017 in Staten Island; New York City, USA. The observation wheel is 630 feet tall. There are 36 cabins capable of holding up to 40 people at one time resulting in a seating capacity of 1440 passengers. The duration of the ride is 38 minutes, resulting in a total capacity of 2273 people per hour.
New York Wheel Pictures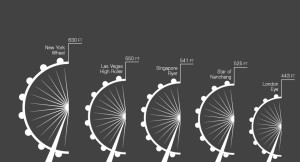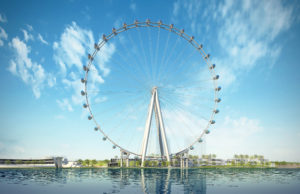 Videos of the New York Wheel
Last revised on: 8-2-16
Return to the Ferris wheel list.
Please contact us if you would like to submit any photographs or help us fill in missing information.
New York Wheel – Information, Stats, Pictures, and Video
New York Wheel
Find detailed information on the New York Wheel in Staten Island; New York City, USA including statistics, pictures, video, and more.